The Wedding of Your Dreams - Rustic Vs. Boho
While there is a definite crossover between rustic and boho wedding themes, the two are not the same and have distinct differences. The simplest way to differentiate between them is to recognize that a rustic theme utilizes natural elements, lots of greenery, and an organic mindset. Boho, on the other hand, is more whimsical, romantic, and eclectic. While each is rooted in its distinct characteristics, they can crossover into the other territory. It all depends on what you want your wedding to look like and, most importantly, your personal preferences.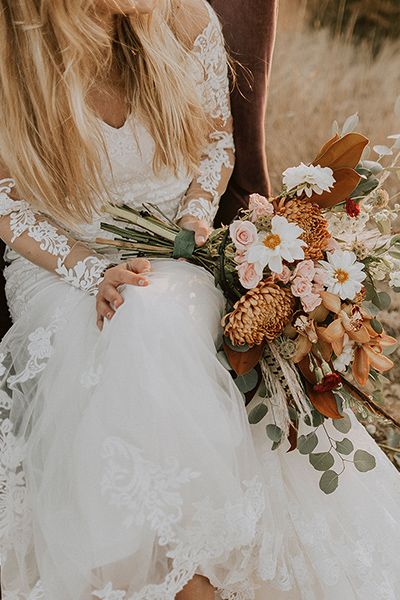 Rustic Weddings
A rustic wedding theme needs a natural color palette with plenty of organic shapes and textures. Think wood and lace plus country flowers, grasses and foliage. Perfect for barn weddings, rustic-inspired weddings are all kinds of beautiful and can be incredibly romantic. A few essential elements to achieving the perfect look for your rustic wedding include:
Wood: Wood will likely play a significant role in your rustic wedding, whether used in props like crates and a decorated stepladder or the beams that sit high up in your venue. Its aged, rough, and natural appearance is the perfect accompaniment to your rustic wedding decor.

Rough linen napkins: Your table setting makes a fantastic base for adding texture to your decor. You can stick to neutral shades, or if you like, you can add a touch of color with your linens.

Greenery: Native florals and lots of foliage are a staple of a rustic wedding. Think texture and muted colors, and forget about perfection. The best part about a rustic bouquet is that foliage can be used to fill in any gaps, and you don't have to worry about it looking rounded or picture-perfect.

Muted colors: A neutral color palette is the signature look for a rustic wedding theme. It's the perfect base to tie in secondary shades like champagne, white, and even green, as well as introducing a subtle hint of color like dusty rose, peach, or lavender.
Your venue can heavily inspire your theme. That's why places like farms, barns, and wineries are popular destinations for a rustic wedding theme. At the historic Barn Chapel of The Barn at Evergreen Memorial Park, you will sweep across rustic wood floors into this spacious and charming log building.
Inspired by the simplicity of nature, a rustic wedding represents everything a couple loves about laid-back country life.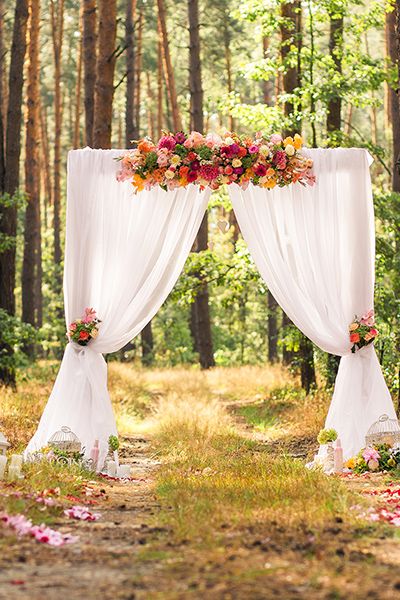 Boho Weddings
The Boho wedding is the perfect wedding theme for a creative couple. If you want to mix up colors and more alternative decorations, then go for it! Think fringe, macramé, patterns and a broader color palette mixed with a free-spirited take on the traditional wedding.
Bring your boho wedding theme to life with these must-have elements:
Drapery: Elegant and effortless drapery helps to convey that whimsical, bohemian feel. With smooth, flowing fabrics adorning your table, the generous overflow over the side to the ground, guests will feel as though they've been transported to a playful and chic fairytale dreamland.

Macrame: A popular trend in the 70s, macrame is being embraced by the modern boho bride. A hanging macrame backdrop makes the perfect setting for your ceremony. Keep it plain or adorn it with seasonal floral to add color and excitement. You can even add it into bouquets to tie it all together.

Lace - This delicate, romantic, and whimsical fabric is notorious for being the base in almost every boho bride's wedding. Balancing whimsical romance with a chic and relaxed vibe, you'd be hard-pressed to find a boho bride who doesn't embrace lace.
Draped fabrics, colorful bouquets, and a free-spirited nature are the key elements of a beautiful boho wedding theme.
Learn More About Us!
While both styles share a few similarities, there are unique elements to boho and rustic weddings that set them apart from one another. However, no matter if you choose a boho or rustic theme, The Barn at Evergreen Memorial Park is a perfect, dreamy setting for your wedding. Contact us today to learn more about our venue.